Saturday - October 21, 2017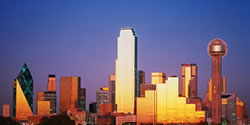 ---
Next Chapter Meeting
2010 Winter Conference
January 23-27, 2010
Orlando, Florida


---
Get Involved In ASHRAE!
Please read through this web site to obtain information about our Chapter. All Industry Professionals are urged to regularly attend the monthly meetings, volunteer and participate in Chapter activities, as well as participate in regional and national events.

Online Reservations
You can conveniently make your seminar reservations online. Please note that the lunch meal is now $25.00 with reservations and $30.00 without reservations.
Sign up for Email Notification
The Texas Norther Newsletter is now electronic to find out when the latest newsletter has been posted, please sign up for email notification.
The following are links to the Society and Region XIII Chapter web pages:
Please forward all questions or comments concerning the web page to David Pich at Dallasashrae@yahoo.com
---
This web site describes the activities of The Dallas Chapter of the American Society of Heating, Refrigerating, and Air-Conditioning Engineers, Inc. (ASHRAE). It does not present official positions of the Society nor reflect Society policy. ASHRAE is not responsible for this site's content. To learn more about ASHRAE activities on an international level, contact the ASHRAE home page at http://www.ashrae.org.